Honour roll for Webster Ltd. Date carved unknown.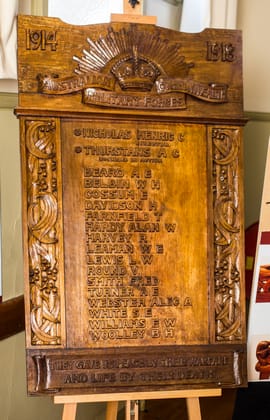 DB42
This honour roll is now at RSL Tasmania headquarters.

Webster Ltd is a long established Tasmanian rural and agricultural products company and the honour roll lists those of the company who served in World War One. It lists 18 names.
Monument characteristics :The polished wood honour board has a carved insignia of Australian Commonwealth Military Forces at the top and carved patterns on either side of the carved names.
The Honour Roll now resides at RSL State Headquarters, 68 Davey Street, Hobart, TAS 7000
From Webster website:
Webster Limited is Australia's fourth oldest business. It commenced operating in 1831, just 28 years after the settlement of Van Diemen's Land, as a traditional pastoral house. One hundred and eighty years on, it is now a diversified food and agribusiness with a growing reputation locally and internationally for the quality of its produce.
The Company saw many changes during the 19th and 20th centuries. In particular, Webster played a part in the historical development of the dairy, energy and paper making industries by supplying generators, refrigeration equipment, pumps and motors to these sectors over a period of more than 100 years………