Memorial altar St Peter's Church, Hamilton. Carved 1918.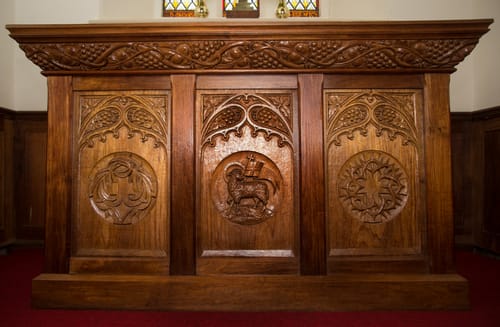 DB130
Examiner (Launceston, Tas. : 1900 – 1954), Saturday 8 May 1920, page 8
A GALLANT TASMANIAN MAJOR HUTCHINSON'S DEATH.
It will be remembered by the many friends of the Rev. Arthur Hutchinson, rector of the Hamilton parish, that his eldest son (Major Justin Hutchinson) fell in the battle of Fromelles, better known as the attack at Armentieres in July, 1916. For a long time the secrecy of war kept a veil drawn over the details of this sad page in the history of the Australian Imperial Forces. Accounts have now been published telling the story in stirring language of "our most glorious failure." In it the bravery and daring of the young Tasmanian officer (Major Hutchinson), who died gloriously whilst leading his men against tremendous odds, are pictured. The part referring to his gallantry will be read with interest by his many friends. "General Elliott received official news of the failure of the 61st Imperial Division (on the right) at about 7.30 p.m., by which time he was also aware that the 59th and 60th Battalions were badly cut up, and quite unable to advance without assistance. On receipt of information at 7.52 that he could use two companies or the 13th to support his attack, in con- junction with the attack of the 184th Imperial Brigade on the Sugar loaf, he took immediate steps to make the necessary arrangement. Command of the attack was entrusted to Major Justin Hutchinson. Few more gallant episodes than his dashing, hopeless assault exist in the annals of any army in the world. The attack of the 61st Imperial Division had been abandoned (without the battalion knowing it), and the Sugar Loaf defences were thus enabled to concentrate the whole of their organised machine-gun fire on the one thin Australian line which now endeavoured to penetrate it. With wonderful dash the companies pressed on, losing at every step, but undaunted to the end. They reached the remnants of the 59th. and 60th Battalions, where they lay grimly waiting in their shallow improvised positions. They caught them up and carried them on towards the enemy by the impetus of their own heroic charge. Impeded by broken ground and shell holes, the thinning line searched brokenly forward, reeling under the enfilade, enduring everything but the thought of failing. It was in vain. At the enemy wire the fire became hellish, irresistible. Major Hutchinson perished gloriously, close to the German parapet. The attack melted into nothingness." Major Hutchinson was only 21 years of age at the time when he made the great sacrifice. He had entered Duntroon Military College three years previous to the war, and showed great promise of a distinguished career as a soldier. For his conspicuous bravery he was recommended for the Victoria Cross, but it is thought probable that his commanding officer was killed, as his relatives never received it.