Roll of honour, Lower Barrington. Carved 1920.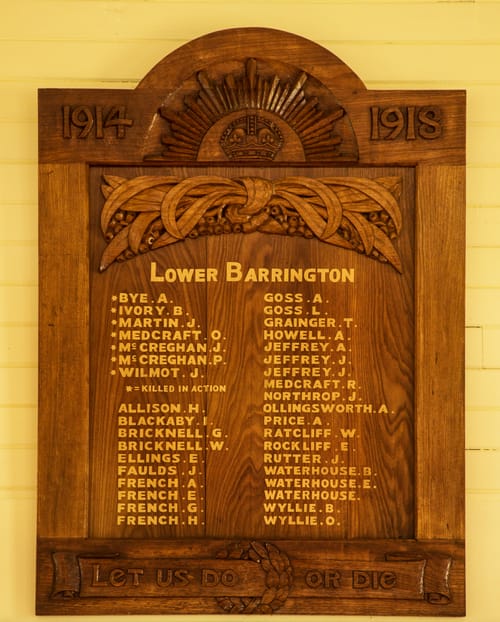 DB43
Advocate (Burnie, Tas. : 1890 – 1954), Friday 28 May 1920, page 4
LOWER BARRINGTON.
On Monday morning several parents and friends met at the State school to celebrate Empire Day and to witness the unveiling of a roll of honor for the Lower Barrington district. Speeches were given by the Revs. Best and Clarke, and recitations and songs by the children. Cr. J. A. Moore, who acted as chairman, also gave an address. The children were marched out of the schoolroom and arranged around the veiled honor roll. The flag was hoisted and the children, who had been carefully trained by their teachers, Misses Falconer and Habner, saluted the flag and repeated the Empire Day pledge.
The honor roll, which is a very handsome board, the work of Mrs Payne, of Hobart, was then unveiled by Mrs. McCreghan, who unfortunately lost two sons in the great war. The 36 names on the roll were then read by the Rev. Clarke, and the flag was flown at half-mast in honor of eight of the brave men who paid the supreme sacrifice. The children honored the names of those men on the roll by coming to the salute. The "Recessional" and God Save the King were sung after short addresses were given by the Revs. Clarke and Best: and a vote of thanks was proposed by Mr. Habner to all who had helped in connection with the honor roll and Empire Day celebrations, and was seconded by Cr. Moore. Luncheon, provided by the ladies, was partaken of and afterwards games were played by the children, who were then dismissed for the day.