Font cover, St Andrew's church, Westbury. Dedicated 1936.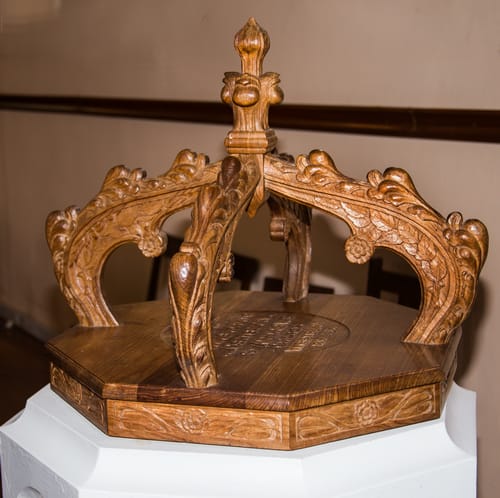 DB4
The Mercury (Hobart, Tas. : 1860 – 1954), Tuesday 23 June 1936, page 2
"CHURCH CENTENARY
Celebrated by Westbury Anglicans
St. Andrew's Church of England, Westbury,  celebrated its centenary by holding a fair in the Parish Hall, which, the Bishop of Tasmania (Rt Rev. Dr. K. S. Hoy) attended. Those in charge of the stalls were: Produce, Mesdames L. S. Collins, C. Garwood, A. J. Clarke; cake, Mesdames A. E. Brennan, W. Phillips, Miss Jean Gill; sweets, Misses D. Hodgetts and T. Causby;  fancy, Mesdames N. T. Patman, C. J. Randall. The tea table was the length of the hall. On the centre was a three-tier centenary cake, made by Mrs. E. A. Brennan. Those in charge were: Mesdames A. Bradley, W. Eley, A. Heathcote, F. Foster, B. Badcock.
Dancing was held in the evening. Music was supplied by Misses K. Best and Mr. Lionel Clarke. Extras were played by Misses E. Collins and D. Foster.
Three services were held in the church on Sunday at 7 am, 11 am, and 7 pm, when large numbers attended. An inspiring address was given by the Bishop, who dedicated a beautiful carved crown top for the font made and presented by Mrs. Payne, of Hobart a very devoted and generous worker of St. Andrew's. The gift was to mark the occasion of the centenary.
The evening service was conducted by the Rev. C. J. Randall, owing to the illness of the Rev. E. W. Julien.  Mrs. A. Bradley was the organist.
The foundation stone of the church was laid in March. 1836 by the Lieutenant-Governor (Colonel George Arthur)."