Endowment board unveiled 1939. Mothercraft Home, Tasmania.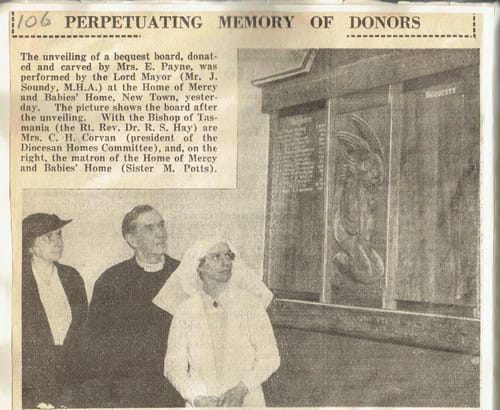 DB138
Obviously Nellie was a very charitable person, donating many carvings  to various organisations over many years.   Her daughter, Madge, also worked at the Mothercraft Home and our assumption is that this Home was run in conjunction with the Home of Mercy and Babies Home, and also Clarendon Home.  Nellie and Madge were also involved in many fundraising events for these homes.
Unfortunately, this board has not been found, and the only photo we have is at the unveiling.
Examiner (Launceston, Tas. : 1900 – 1954), Tuesday 26 September 1939, page 7

The Mercury (Hobart, Tas. : 1860 – 1954), Monday 18 September 1933, page 8

The Mercury (Hobart, Tas. : 1860 – 1954), Tuesday 26 September 1939, page 4