Chest for Karl von Stieglitz. Carved circa 1949.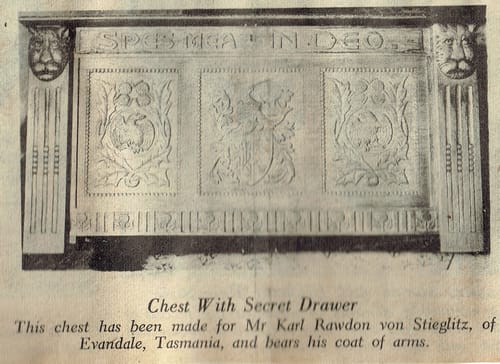 DB117
"Courtesy of Queen Victoria Museum and Art Gallery, Launceston"
Karl Rawdon von Stieglitz was born on 19 August 1893 at "Andora", Evandale, the son of John Charles and Lillian Brooke Vere (née Stead) von Stieglitz.
After his father's death in 1916, he took possession of "Andora". He enlisted in the First World War, but after nearly a year in the AIF (AMC branch) was unable to proceed overseas due to rheumatic fever. He then attended Hawkesbury Agricultural College at Richmond, NSW, and later married Eileen Bessie Helsham in 1919. They had a son, Charles David William Helsham (born 1925) and a daughter, Elizabeth Brooke Heisham (born 1929).
Mr von Stieglitz, a well known pastoralist, established his stud of Corriedale sheep in 1928. The following year the adjoining property of "Woodlands" was added to "Andora".
Notes on St Andrew's Church centenary, 1837-1937, Evandale, published in 1937, was the first of his many books on local history. All the profits from his publications went to the RSL, Legacy and other charitable organisations. Appointed the Official Historian to the Tasmanian Government, he was also well known for his talks on Tasmanian history for ABC radio and on television.
Mr von Stieglitz was Warden of the Evandale Council from 1953 to 1961, a District Justice of the Peace, District Financial Commissioner for the North Midlands District of the Boy Scouts Association, chairman of the Northern Branch of the Royal Society, stalwart of the National Trust, a Freemason and secretary and synod representative of St Andrew's Church. He was awarded the OBE in 1952.
Karl von Stieglitz died of a heart attack on Easter Sunday, 26 March 1967.
His contribution to the recording of Tasmanian history is commemorated by the Mead, Smith, von Stieglitz Memorial Lecture, which was first delivered in 1973.
Transcript of story as appeared in Australasian Post December 1st 1949
QUEEN OF WOOD-CARVERS
STORY by FRANK DOHERTY; PICTURES by JACK LAWRENCE.
You'd love Mrs Payne. She's that sort of person. Her eyes are grey, bright and clear. Her face is delicate, the features finely chiselled. Her hair is greying, and her hands are graceful and capable. Her voice is quick but soft. And she'll tell you, withholding the actual figure with all her woman's prerogative, that she's "over 80."
ELLEN PAYNE lives in a neat little house in Antill St, Hobart, Tasmania. The garden, with its short, curved path, is well kept, the rooms spotless but lived in. Lining the hallway are coloured prints of the 'Cries of London.'  Within five minutes Mrs Payne is almost certain to be serving you tea.
An ordinary suburban home run by a charming 80 year old woman?
To the contrary, an extraordinary home run by an extraordinary dynamic woman of amazing vitality and personality, a woman with an international as well as an Australia wide reputation.
Mrs Payne is probably Australia's finest wood-carver—still, at an age when most women are content to sit back with their knitting and their grandchildren around them.
Her work is exquisite, unbelievably delicate, done by fingers which, although they are more than 80 years old, are deft, sure, and strong.  As you look closely into her carvings you cannot help but think: "This was done by a master craftsman." They were. And then you look up at the master craftsman and you see a woman smiling gently at you. It's hard to believe.
Her energy is unbounded. She seems to regard herself as still a girl, ready to go on wood-carving for many years yet. She pooh-poohs any suggestion that she should give it up. What else would there be for her to do?
Hutchins School in Hobart has just commissioned her to carve an honour roll in memory of its past students who served in World War II. She did one for the school some years ago after World War I. "There were 300 names on that one," she said, "and I carved each one of them. This time there are 600. But it'd take too long to do them. I've got so much else to do."
Mrs Payne excels in ecclesiastical work. In case you're getting the idea that she's just a high-class whittler, you may be interested to know that Westbury Church, in Tasmania, contains what is generally considered to be her best work.
It includes the whole of the altar, the chancel, pulpit, chancel screen, and a memorial endowment roll with a portrait of the Madonna and Child.
In Hobart, if you want to see what Mrs Payne can do, go to Hutchins School and see the honour roll and the magnificent head master's chair.
Go to the House of Assembly and see her beautiful carving of the Royal Coat of Arms.
Go to her son's house—one of the most attractive old homes in Hobart, built in 1834 — and see the Tasmanian blackwood mantel she gave her son and daughter-in-law as a wedding present. Stand in the hall way of that home and inspect the family crest, done in American walnut.
At the back of her own home in Antill St is her studio. Her current work is an alms box for Launceston Grammar School, given by his parents, in memory of a pupil who was killed in Bougainville in 1945. In the corner, freshly polished, stands a large chest, just completed for Mr Karl Rawdon von Stieglitz, of Evandale, Tasmania.
On the front of the chest is carved the von Stieglitz coat of arms, with motifs from it carved at the side. The chest has a secret drawer, just as a superb Louis XIV bureau of Mrs Payne's is reputed to have although she has never been able to find it.
She has done about 30 such chests for various Tasmanian families, including one for her granddaughter, Phyllis Payne, and inscribed in her own hand: "This chest is of mahogany 90 years old. The two heads at the side are from the Edenholme, wrecked in 1907 on the Tamar. The handles are from the doors of Parliament House, Hobart. The chest is for Phyllis Payne, whose great-grandfather was in the first Parliament, of 1856 for 2 years. The chest was carved by her grandmother —E N. Payne"