Glamorgan Municipality, Tasmania. Honour roll unveiled 1954.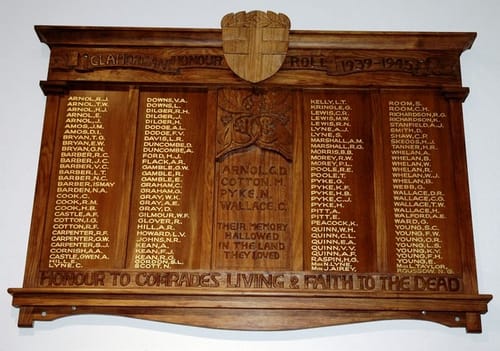 DB190
This World War 2 honour roll looks like it was carved by the same person as the WW1 honour roll, it is therefore assumed that Nellie has carved it, as it is recorded that she carved the WW1 roll. The other possibility is that someone else has carved the WW2 honour roll to match Nellie's carved WW1 honour roll.
The Mercury (Hobart, Tas. : 1860 – 1954), Thursday 29 April 1954, page 23.
Glamorgan Municipality honour roll bearing the names of 120 who served and fell in the Second World War was unveiled after the Anzac Day service at Swansea last Sunday. It will be erected on the council chamber wall, next to the roll for the First World War. The unveiling was performed by the Warden (Mr. E. Brettingham-Moore).