"Ellen Nora Payne – Woodcarver of Tasmania" by Russell Atkinson. Published 1975.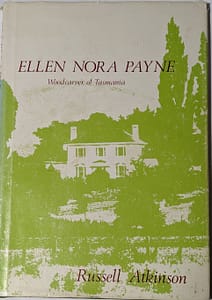 This is the story, told for the first time, of Mrs. Ellen Nora Payne, of Westbury and Hobart, who filled a lifetime of 97 years with an artistic achievement which ranks her with Australia's most remarkable women. With her good looks and attractive personality she combined a rare skill in woodcarving and design which was recognised far and wide, and much of her remarkable output has become a permanent part of Tasmania's artistic heritage.
Her husband, Dr. C. A. Payne, took her to England after practising in Hobart and Melbourne, and there she perfected her skill at the hands of the best teachers.
There her chosen art blossomed forth, so that when she returned to Tasmania she won outstanding prizes at the first all-Australian Exhibition of Women's Work in 1907.
Her sympathy with young people before, during and after, the First World War prompted her to devote her talents to many wartime objects, to churches — especially her beloved St. Andrew's Church, Westbury — and to schools.
The dower chests she lovingly carved for friends and relatives are treasured in many homes today.
Her final artistic contribution of note was a plaque for the restored Church of All Hallows by-the-Tower, London, at the invitation of the Rev. "Tubby" Clayton, of Toc H fame.
*  Reproduced from the front inside dust wrapper of "Ellen Nora Payne -Woodcarver of Tasmania" by Russell Atkinson.
Russell Atkinson's autobiography is held by Russell's daughter, Rosemary Bowman and her son.

Extract from Russell Atkinson's autobiography "Fly on the Wall" or "Sixty Years a Journalist" (page 344)
 "While I was still living in Adelaide Madge Terry (Nellie's daughter) had written to me suggesting that I write the story of her mother, Mrs. C. A. Payne, who had dedicated her life to the art of woodcarving.  As a boy in Hobart I had been on close friendly terms with the Payne family, which consisted of Dr. Charles Payne, his wife, and their three children – Geoffrey, Alan and Madge.  Though we went to different schools and had widely differing interests, Alan and I were much of an age and were close friends until, after Alan had won a Rhodes Scholarship, the First World War separated us.  Many a pleasant hour I spent with the family, and Mrs. Payne was always very good to me, and, though quite ignorant of the fine points of woodcarving, I always felt that her work in that medium was something out of the ordinary.
Madge well knew that her mother's work was outstanding, and encouraged her in every way she could. Mrs Payne's skill and artistry were recognised in England and elsewhere, but, owing to a variety of circumstances, including the Great War, she had never received the public recognition which Madge, and many others, felt that she deserved. Madge felt, quite rightly, that a biographical work which told her mother's personal story and threw some light upon her artistic achievements, should be written and published.  Mrs. Payne herself had died in 1962, in her 98th year.
I had always been fond of Mrs. Payne, and had invariably called on her when visiting Hobart. That influenced Madge in her choice of me as her mother's biographer. It was a task that I enjoyed. Madge provided me with basic notes and a voluminous scrap-book which her mother had kept for most of her life; and those two things gave me a solid basis for the book that I wrote and called Ellen Nora Payne, Woodcarver of Tasmania.
It was printed by Foot & Playsted of Launceston, published in 1975, and launched at a gathering of thirty or forty people at Westbury, Mrs. Payne's birthplace.
The spot chosen for the ceremony was on Westbury's Village Green just outside St. Andrew's Church, which is almost entirely furnished with Mrs. Payne's carvings. The Warden of Westbury, Mr. Bob Ingamells, presided at the ceremony, and several people made appreciative speeches. Madge, who had married late in life and was now Mrs. Gadesden Terry, made the best speech of all.
So it is sad to have to relate that only a little more than a year later Madge herself died, but I have always had the feeling that in her last few days she was happier and more content than she would have been had her mother's biography not been written, published, and warmly received by a wide circle of readers, for to see her mother's work fully recognised and appreciated had been her life's ambition.
At a largely attended memorial service for Madge, in St. David's Cathedral, Hobart on July 6th 1978, the Bishop of Tasmania, the Right Rev. R. E. Davies, made several allusions in his address to my book which he called "this fascinating story of that remarkable woman, Ellen Nora Payne".  Madge's life, in its own quiet way, he said, was almost as remarkable as her mother's."
Later in his autobiography Russell Atkinson says
"Now, as I look backward along the eighty odd years of my life and remember the many friends who stood by me and encouraged me and showed me the way, I like to think of them rather as beacons marking the way through the twisting, shoal-ridden channel of life, helping one past the rocks and the cross-currents and offering a welcome gleam as the mists closed in.  ……………. There were the Paynes, headed, in my thoughts by Mrs. Ellen Nora Payne, the woodcarver.  Alan, her youngest, was a close friend of mine though he was a brilliant scholar and miles above me in ability of every kind; while Madge, the elder sister, and Geoffrey, the elder brother, and the doctor, kindly but aloof and barely tolerant of the sprightly young, all combined to make up a family of excellent friends."
Russell Owen Atkinson grew up at "Hamlyn" 29 Stoke Street, New town, Tasmania which currently operates as Hamlyn Bed and Breakfast. The house was built by Thomas Reibey Atkinson between 1896 and 1898.

Thomas Reibey Atkinson was the grandson of Mary Reibey whose picture appears on the Australian $20 note.  Mary (1777-1855) was born in Lancashire, later arrested for horse stealing and sent to Australia to serve a seven year sentence, arriving in Australia in 1792. Following her release she married Thomas Reibey who became a successful shipping magnate and philanthropist.  Mary was recognized as one of the most successful business woman in Australia. Entally House at Carrick was built in 1819 by Thomas Haydock Reibey, the eldest son of Mary and Thomas Reibey of Sydney.