Timeline for Ellen Nora Payne (nee Field) - part 4,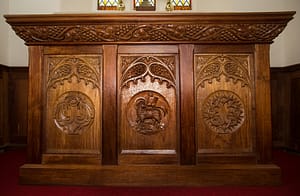 Please note – the 'DB' numbers in this timeline refer to the reference numbers given on the pages in this website and for the 2015 'Who Was Nellie Payne?' Exhibition in Westbury.
1934
 
11th November
Nellie attends Melbourne War Memorial dedication ceremony wearing a medal, DB157.
 
Rectors stall – Holy Trinity church, North Hobart, Tasmania, DB17.
 
Queen Mary club members book, DB71.
 
Hutchins school G.C.Nichols fireplace, DB166.
1935
 
 
Nellie travels with Madge to Asia (on Taiping).
17th September
Nellie judges at the Tasmanian Arts and Crafts Society Hobart Annual Exhibition (Mrs Agnew fellow judge and Phyllis Payne – granddaughter wins 'wool wallet' section).
30th November
Nellie attends 'Welcome Home' bridge party for Lady Clark (Governor's wife) at Mrs J G Mitchell's home 'Eltham' Sandy Bay, Hobart.
31st November
Nellie attends Queen Mary Club bridge party.
 
Nellie carves Honour Roll for Christ Church Longford TAS for Mother's Union of Longford, DB39.

December

Nellie and Madge attend Mrs W B Cropsting Garden Party.
1936
 
21st June
Nellie's font cover for St Andrew's Church Centenary celebrations is dedicated. The cover is placed on top of "Belstead" font, DB4.
22nd September
 Nellie judges at the Tasmanian Arts and Crafts Society Hobart Annual Exhibition (Mrs J Agnew fellow judge).
 
Memorial organ screen – Holy Trinity Church, North Hobart, DB177.
1937
 
14th September
Nellie judges at the Tasmanian Arts and Crafts Society Hobart Annual Exhibition.
 
Nellie completes the Honour roll for Christ Church, Longford, Tasmania. Presented by the Mothers Union on the occasion of the Diamond Jubilee. Dedicated March 7th 1937 by the Rev T.J. Gibson. The words in the centre were thought of by Phyllis Payne (Nellie's grand-daughter) – at the age of twelve, "The Mothers gave their sons. Their sons gave their lives", DB39.
 
Viti Allardyce Dower chest, DB99.
1938
 
9th January
Nellie's 'Seven sisters screen' (chancel or rood screen) daughters of Thomas and Elizabeth Field of "Westfield" Westbury, is unveiled and dedicated in St Andrews Church Westbury by Rev G W Bethune, DB2.
19th October
Nellie judges 'Art Work' section of the Arts and Crafts Society Competition.
 
Nellie carves a memorial plaque for Elsie Anderson, DB8.
1939
 
 
Nellie commissioned by Tasmanian Public Works Department to carve  'Coat of Arms' for Parliament House, Hobart, Tasmania, DB68.
 
Nellie presents Collegiate School Hobart TAS with Headmistress's Ceremonial Chair  from the Prefects of 1939, of which her granddaughter Phyllis was one, DB58.
 
Nellie carves Endowment Roll for Home of Mercy, Sandy Bay, Tasmania, DB138.
11th October
Nellie awarded 2nd prize for 'large Hand-made floor rug made with 'jewel' needle on hessian' on Women's Industries Competition Hobart.
1940
 
29th May
Nellie opens St Andrews Church Fete held in parish hall – is given flower bouquet and cake.
16th November
Nellie and Madge hold party at home for Geoffrey's 19th wedding anniversary.
18th December
Nellie holds woodcarving exhibition at home at 26 Antill Street Hobart to aid war effort for the Red Cross, DB125.
 
Ted Pedley chest, DB94.
1941
 

2nd March

Nellie dedicated Endowment Roll for St Andrew.s Church, Westbury. Tasmania, DB7.
 
Nellie presents Collegiate School with a carved platform desk and stool, a piano stool, a hymn board and ornate font cover, DB55, 56.
 
Nellie writes 'Short History of St Andrews Church' Westbury, Tasmania.
1942
 
1st July
 
 
TASMANIAN WOMAN'S WORK IN WOOD
Many women of artistic ability have given up their favourite hobbies for "the duration," and have devoted themselves to war work. Among these is a Tasmanian woman whose rare skill in wood-carving is well known. She is Mrs. Ellen N. Payne, of Antill-street, Hobart, who has done many exquisite pieces of wood carving, but who now devotes most of her spare time to Red Cross work………………… After the war Mrs. Payne hopes to be able to resume her wood-carving, a craft at which she has revealed such singular ability. Examiner (Launceston, Tas.: 1900 – 1954), Wednesday 1 July 19
42, page 6
 
For the duration  of the Second World War, Nellie conducts, in conjunction with the Red Cross, craft workshops for returned injured soldiers.
 
Kneeler – St Michael's Collegiate, DB167.
1943
 
6th March
Elizabeth Payne (Davson) Dower chest, DB87.
 
John Soundy table – Friends' School, Hobart, Tasmania, DB60.

1944

 
11th October
Nellie wins 'hand-made floor rug made with jewel needle or rug canvas' section of Women's Industries Competition Hobart.
 
Tulloch Field Dower chest, DB107.
 
Dawson memorial plaque in St Andrews Church, Westbury, Tasmania, DB11.
 
Font cover as gift from prefects of 1944 at St Michaels Collegiate, DB57.
 
 
1945
 
25th May
Story on Nellie in Mercury Newspaper article 'Woodcarver's art not dead'
 
Granddaughter Phyllis Payne Dower chest, DB88.
 
Alms box – Launceston Church Grammar School, Launceston, Tasmania, DB136.
 
Side chairs X 2, St Michaels Collegiate, Hobart, DB58b.
1946
 
 
Hutchins School, Hobart, Tasmania, Headmasters board, DB51.
1948
 
 
Robertson Dower chest, DB118.
 
 Altar, Reredos, Hymn Board, St Mary's Church, Gretna, Tasmania, DB23,24,25.

1949

 
 
Nellie carves reredos for Nixon Chapel in St David's Cathedral Hobart Tasmania, DB15.
 
Bookends carved for 'Gussie' Wright's 100th birthday, DB139.
 
Alice White Chair, Tasmanian Museum and Art Gallery, DB179.
 
Ardyn Smith Dower chest, DB114.
 
Gillian Youl Dower chest, DB116.
 
Von Stieglitz Dower chest, DB117.

1950

 
 
Dower chest for Josephine Anderson who married Nellie's grandson Charles, DB90.
 
Marion Clarke's bookends, DB191.

1951

 
 
 Head of River shield, Scotch College, Melbourne, DB119.
 
Hutchins House Music Shield, DB205.
 
Nellie's grandson, Charles married Josephine Anderson and Nellie carved cover of their wedding book, DB203.

1952

 
 
Nellie carves the Presidents' board for the Naval and Military and Airforce Club, Hobart. Presented by the president Major Geoffrey Charles Payne (Nellie's son), DB178.
 
Naval, Military and Airforce Presidents chair, DB72.
 
Davson coat of arms, DB188.

1953

 
 
Nellie meets Rev. Doc. Philip (Tubby) Byard Clayton (Toc H founder) – to carve for All Hallows-by-the-Tower Church London UK.
 
Nellie completes last major work for 'All Hallows-by-the Tower Church' London, UK, DB27 and 28.

1954

 
 
Nellie made life member of the 'Queen Mary Club' Hobart TAS at special meeting.

1959

 
 
Lectern for Hutchins school carved by Nellie, DB49.

1961

 
 
Nellie's daughter Madge marries Edward Gadesden Terry, aged 73 years.

1962

 
31st January
Ellen Nora Payne dies peacefully at home in Hobart surrounded by her family.   She is cremated at the Cornelian Bay Cemetery in Hobart and her ashes are interred in the family plot in Westbury General Cemetery.

1966

 
 
Nellie's son Geoffrey Charles Payne dies in Hobart aged 75.

1975

 
 
Nellie's  biography commissioned by her daughter Madge and written by journalist and family friend Russell O. Atkinson – 750 copies released.

1976

 
 
Nellie's daughter, Madge Terry, dies in Hobart aged 87.

2011

 
 
Silhouette to honour Nellie created by John Parish and displayed outside St Andrews church.

2012

 
 
Brooch made by Michelle Taylor  to honour Nellie in Tinker, Tailor, Soldier, Sailor exhibition which tours Queensland, NSW and Vic.  DB199.

2015

 
 
Tasmanian government add Nellie's name to Tasmanian Women's Honour Roll.
 
Westbury honours Nellie with her own complete exhibition of all of her carvings. The appreciation of her work was enormous with 7,000 people visit across three sites – Westbury Town Hall, Fitzpatricks Inn and St Andrews Church.

2016

 

January

Meander Valley Council Community Event of the Year.
 
nelliepayne.com website created and launched.